Hunter Douglas Roller Shades and Sunscreens
Solar Shades offer excellent light and glare control with an uninterrupted view to the exterior. They protect furnishings from harsh UV damage and save energy costs. They are simple to use, easy to clean and are durable in all types of commercial or residential applications.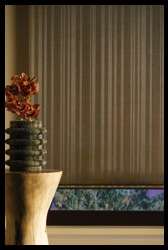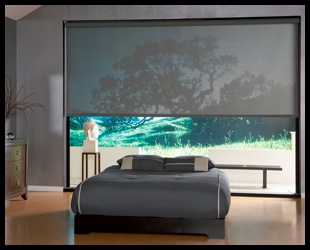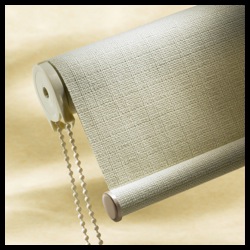 Eco-Friendly Solar Shading Fabrics
The Eco-friendly line of solar shading fabrics is the high-performance, PVC-free alternative to traditional shading fabrics. Because Eco-Friendly fabrics are PVC-free solar control products, they can easily be recycled. They are also FR rated, meeting standards for the North American market.
The benefits are many:
• Elimination of PVC content in production of Eco-Friendly fabrics means shades contain no VOC's (Volatile Organic compounds) and do not "off-gas" during the life of the product.
• PVC-free content makes it easier and quicker to recycle Eco-Friendly fabrics and divert them from landfills.
• Dimensional stability minimizes stretch and wear.
• An assortment of openness factors enables shading tailored to a wide range of applications.


View our Fully Operable Curved Glass/Sunroom Screen Shades Page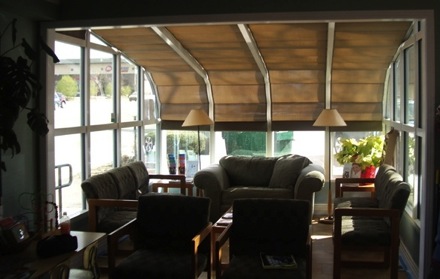 Designer Screen Shades and Roller Shades from Hunter Douglas
With new, luxurious fabrics and innovative features, Hunter Douglas has redefined the roller shade. Designer Roller Shades offer excellent light control while providing a clean, stylish look in your home. With nearly 200 fabric/color combinations to choose from, along with numerous design options, the decorating possibilities are endless. The gentle contour of the Roman shade style adds a soft touch to a contemporary fabric. And the traditional roller shade paired with the fashion-forward screen fabric puts a modern twist on a classic favorite. So whether you prefer the contemporary feel of roller shades or the elegance of Roman shades, the result is sheer splendor.